Tsui Hark
---
Accueil | Cinéma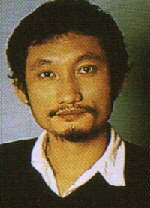 Tsui Hark, l'un des plus grand cinéastes de Hong-Kong.
Tsui Hark est né au Viêt-nam en 1951. Il fait ses études aux États-Unis, puis reviens à Hongkong en 1977. Il commence par tourner des séries TV avant de réaliser son premier long métrage en 1979 : Butterfly Murders. Remarqué par la critique, mais boudé par le public pour ses premiers films, il crée en 1984 sa propre compagnie de production, la Film Workshop, et une compagnie d'effet spéciaux Cinefex Workshop en 1986. Très vite il réunis autour de lui les plus grands talents de Hongkong et devient le personnage majeur de l'industrie cinématographique Hongkongaise. En 1986, il produit Le syndicat du crime de John Woo, ainsi que Histoires de fantômes Chinois de Ching Siu Tung. Mais la forte personnalité du producteur réalisateur fait peu à peu fuir certains cinéastes vers d'autres horizons.
Parmi les meilleurs films de Tsui Hark réalisateur, citons Il était une fois en Chine, The lovers, Green snake, The blade.
Tsui Hark à depuis tourné Double Team avec Jean Claude Van Damme aux États-Unis.

HK vidéo lui consacre une collection. Alors, n'hésitez pas à découvrir quelques fleurons du cinéma de Hong-Kong.
Filmographie
Réalisateur

Butterfly murders (Butterfly murders - 1979)
Histoire de cannibales (We're going to eat you - 1980)
L'enfer des armes (Dangerous encounter - 1980)
(All the wrong clues (for the right solution - 1981)
Zu, les guerriers de la montagne magique (Zu, warriors from the magic mountain - 1983)
Mad Mission 3 (Aces go places : Our man for bond - 1984)
(Shanghaï blues - 1984)
(Working class - 1985)
(Pekin opera Blues - 1986)
Le syndicat du crime 3 (A better tomorrow 3 : love and death in Saïgon - 1989)
(Swordsman - 1990) (Coréalisé avec King Hu et Ching Siu Tung)
Il était une fois en Chine (Once upon in China - 1991)
(King of chess - 1991) (Coréalisé avec Yim Ho)
(The master - 1991)
(The banquet - 1991) (Coréalisé avec Clifton Ko)
Twin dragons (Twin dragons - 1992) (Coréalisé avec Ringo Lam)
Il était une fois en Chine 2 : La secte du Lotus blanc (Once upon in China 2 - 1992)
Il était une fois en Chine 3 : Le tournoi du lion (Once upon in China 3 - 1992)
Green snake (Green snake - 1993)
Il était une fois en Chine 5 : Dr Wong et les pirates (Once upon in China 5 - 1994)
The lovers (The lovers - 1994)
Le festin Chinois (A chinese feast - 1995)
Dans la nuit des temps (Love in the time of twilight - 1995)
The blade (The blade - 1995)
(Three stars - 1996)
Double Team (Double Team - 1997)
Piège à Hong-Kong (Knock off - 1998)
(Time and Tide - 2000)
(Black Mask 2 - 2001)
(Legend of Zu - 2001)
Producteur

Le syndicat du crime (1986) (de John Woo)
Histoires de fantômes Chinois (1987) (de Chin Siu Tung)
Le syndicat du crime 2 (1987) (de John Woo) [+ sujet original]
The big heat (1988) (de Andrew Kam & Johnny To)
The Diary of a big man (1988) (de Chu Yuan)
Gunmen (1988) (de Kirk Wong)
Laserman (1988) (Peter Wang)
Roboforce (1988) (de David Chung) [+ acteur]
The killer (1989) (de John Woo)
Just Heroes (1989) (de John Woo & Wu Ma)
Web of deception (1989) (de David Chung)
Fantasy of a Swordsman (1990) (de King Hu & Chin Siu Tung) [+ coréalisation]
Spy games (1990) (de David Wu)
Histoires de fantômes Chinois 2 (1990) (de Chin Siu Tung)
The raid (1990) (de Chin Siu Tung)
King of chess (1991) (de Yim Ho) [+ coréalisation]
Histoires de fantômes Chinois 3 (1991) (de Chin Siu Tung)
Sworsman 2 (1991) (de Chin Siu Tung)
Wicked City (1992) (de Mak Tai Kit)
L'auberge du dragon (1992) (de Raymond Lee)
The east is red / Swordsman 3 (1993) (de Raymond Lee)
The magic Crane (1993) (de Benny Chan)
Iron Monkey (1993) (Yuen Wo Ping)
Il était une fois en Chine 4 : La danse du Dragon (1994)(de Yuen Bun)
Le temple du Lotus rouge (1994) (de Ringo Lam)
Wong Feï-Hung Series (1996) (Série TV)
Shangaï Grand (1996) (de Poon Man Kit)
Black Mask (1996) (de Daniel Lee)
Il était une fois en Chine 6 : Dr Wong en Amérique (Once upon a time in China and America - 1997) (de Samo Hung)
A Chinese ghost story - The Tsui Hark Animation (1998) (de Andrew Chen)
---